Drink in the Beauty of California?s North Coast and Shasta Cascade Regions
Northern California is home to some of the best beer anywhere and offers some spectacular scenery as the backdrop for this brew-centric tour. A wild coastline, the tallest trees on the planet, volcanic lakes, waterfalls, mountains, pioneer history, National Parks, steam trains and frontier and Victorian towns? this is one of the few places in the world where you can find it all.
Our Beer-cation recommendations begin in San Francisco?s North Bay, with some heavy hitting breweries, and loops you through the greatest hits of beer in the region.
For recommendations on lodging and attractions, please visit any of the area?s fine visitors? bureaus, listed at the end of this itinerary.
Remember, visiting this area offers the chance to see the tallest trees on the planet, the dramatic Pacific coastline, and for those who want to change-up your drink of choice, many places to experience family friendly artisanal wineries and kombucha. Now, let?s get started?
Leave the hectic energy of the city in the rear view mirror as you head north across the iconic Golden Gate Bridge. Travel north along US 101 for about 40 miles and you?ll find (in order of appearance):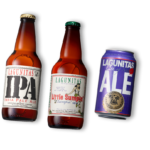 Lagunitas Brewing Company
lagunitas.com
725 4th St, Santa Rosa, CA 95404
(707) 545-2337
Russian River Brewing Company
russianriverbrewing.com
725 4th St, Santa Rosa, CA 95404
(707) 545-2337
Bear Republic Brewing Company
bearrepublic.com
345 Healdsburg Ave, Healdsburg, CA 95448
(707) 433-2337
Continue on Highway 101. From Hopland, you can continue north into Mendocino County, or veer east on to scenic highway 175 - a stunning mountain drive -? to sample what Lake County has to offer. Let's look at the latter.
Just about 35 to 40 minutes from Hopland, near the largest freshwater lake in California (Clear Lake), you'll find Kelsey Creek Brewing Company and O'Meara Bros. Brewing Company.? Kelsey Creek refers to itself as a nano-brewery, offering eight selections, and sits right in downtown Kelseyville. It's a wonderfully cozy little place, and downtown Kelseyville is quite charming. O'Meara Bros. is in Lakeport, right along Highway 29, and they are a full brew pub offering a wide selection of their own beers, food and live entertainment. Click here to learn more about these two Lake County gems.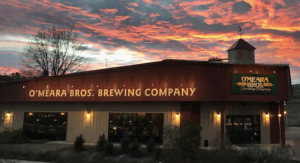 Kelsey Creek Brewing Company
kelseycreekbrewing.com
3945 Main Street
Kelseyville, CA 95451
O'Meara Bros. Brewing Company
omearabros.com
901 Bevins Street
Lakeport, CA 95453
Again, continue on highway 101 north to Ukiah, for the brewery that got its start in Hopland. You might want to stop at one of the many superior wineries along the way.
A quick drive into downtown Ukiah takes you to Ritual, until recently Ukiah Brewing Company.
Ukiah Brewing Company
ukiahritual.com
102 S State St, Ukiah, CA 95482
(707) 468-5898
Ukiah Brewing Company?is located in the historic Marks Building in the heart of downtown. It has a gastropub on the main floor, fine dining room on the mezzanine level, a comfy lounge off the brew house, and an outdoor patio for those who like to dine al fresco. The eclectic menu changes seasonally and is based on what local farmers, ranchers and fishermen provide.
If visiting Ukiah in June, the Taste of Downtown ?brings together wineries and breweries from throughout the region with downtown merchants to offer tastings and live entertainment. In September, your visit may coincide with Pints on the Plaza?providing a chance to sample a variety of microbrews, enjoy live music, vendor booths, food and refreshments in historic downtown.
Now, on to the next Mendocino County town on our Beer-cation, Boonville.
Double back a few miles south on either US 101 or Ukiah?s South State Street to CA Route 253, ?which takes you into Anderson Valley, home of amazing brews, award winning pinots and not one, but two groves of old growth redwood trees. More importantly for our purposes though, 253 will literally deposit you at the entrance of AVBC in Boonville, at the intersection of Highways 253 and 128.
Anderson Valley Brewing Company??
avbc.com
17700 Boonville Rd, Boonville, CA 95415
(707) 895-2337
A valley staple since 1987, the AVBC got its start in a 10-barrel brew house down the highway from its current location. In 1996, demand for their award-winning ales exceeded capacity at the brew house so they constructed their current facility. If you have extra time after sampling their stellar brews, check out their dedicated disc golf course! If you?re in town in April, AVBC hosts the Legendary Boonville Beer Festival. This annual event showcases breweries from all over the west with over 100 brews to sample and enjoy.
The Beer-cation tour then traverses northwest on CA Highway 128, one of Mendocino?s two wine regions and home of award winning pinot noir producers. This is truly one of the most picturesque drives in California which leads to the iconic Coastal Highway 1.
Traveling north on Highway 1 towards Fort Bragg, the Victorian village of Mendocino is a definite stop, with historic architecture, shopping, dining and amazing photo ops both in town and along the headlands on the west end of town. While in town, Patterson?s Pub is a good stop for a brew and bite.
Your next stop is North Coast Brewing Co. in Fort Bragg, about 10 miles north of Mendocino on Highway 1.
North Coast Brewing Company
northcoastbrewing.com
444 N Main Street
Fort Bragg, CA 95437
(707) 964-2739
In the middle of town, you?ll find this gem calling your name. Aside from world-famous beer, the brewery recently opened the Sequoia Room?presenting jazz every Friday and Saturday and attracting nationally and internationally known acts.?
And the latest addition to the Fort Bragg scene is Overtime Brewing. This is long-time dream its two co-brewers, going back to when they first started brewing on the sly at age seventeen. It is the culmination of years of work between these two and their restaurant manger and executive chef. Not to mention the help and support of dozens of friends and family and more than a few new friends.
Overtime Brewing
overtimebrewing.com
190 Elm Street
Fort Bragg, CA 95437
(707) 962-3040
Things to do before or after your tasting excursion include riding the Skunk Train, a vintage steam engine, into the redwoods and touring the Mendocino Coast Botanical Gardens?. For the more active minded, surfboard, sea kayak and diving gear rentals are available. The town also offers miles of paved coastal trails perfect for biking and for visiting world famous Glass Beach. Rentals are available at the Fort Bragg Cyclery in downtown.
From Mendocino to Humboldt: Begin your drive with beautiful views of coastal pastures and archway forests on HWY 20 to Leggett. ?Stop for a photo and souvenir at the Chandelier Tree, one of the North Coast?s three Living Drive Thru Trees. If you?re feeling adventurous a photo at all three makes for a great Redwood Experience! ?
Once you?ve had your fill, head north on Highway 101 to the Grandfather Tree to revel at nature?s capabilities. ?While you?re there, check out Thunderbird Mountain Trading Company, the Native American gift shop and grab a snack, because you?re about to drive through the ?Redwood Curtain? aka Richardson?s Grove State Park. ????????????????????????????????????????????????????
Views of the South Fork Eel River greet you on the other side, and you may have seen some wildlife by now. ?But it?s time to keep your eyes out for the legendary Bigfoot!
The drive north is an iconic Highway 1. ?A drive through the Avenue of the Giants ? a world-famous scenic drive made up by a 31-mile portion of old Highway 101, paralleling US 101, by far the most outstanding display of these giant trees in the entire 500-mile redwood belt. It?s surrounded by Humboldt Redwoods State Park, the largest remaining stand of old-growth redwoods in the world. Take time to picnic, camp, hike, swim, fish, raft or bike ride in the cool hush of these ancient redwood forests. Humboldt County has been used many times in films and commercials for its leisurely yet majestic scenery. The place is truly a magical experience.
A short 28 miles more north and you?ve arrived at your brew tasting destination and lunch.
At Eel River Brewery (Fortuna), a Certified Organic Brewery known for blazing a trail in craft breweries ? taste a true heavy hitter in the world of beer. ?Try the California Organic Blonde or Organic IPA, featuring the floral and citrus of Pacific Northwest organic hops.
After lunch cross over the Ferndale Bridge, the "Queen of Bridges" still the longest functional poured concrete bridge in operation in the world.
Overnight in Ferndale, one of Northern California?s best-kept secrets. ?With pristine Victorian B&B?s and architecture it is a photographer?s paradise and a shopper?s delight. ?Old-fashioned mercantile shops, antique stores, art galleries, and specialty shops line Main Street and provide the quaint, yet artisan craftsmanship you?d expect from another era. ?
Waking up in Humboldt County, home to seven microbreweries, thirty winemakers and vineyards, five distilleries, cideries, candy makers and artisans you?re first question is probably, ?where?s the coffee?? ?Don?t you fret, Humboldt County can also boast thirty-eight and counting specialty coffee shops eight of which are also local roasters. Let Humboldt County provide the luxuries in your trip you well deserve. ?In Ferndale, check out Mind?s Eye Coffee Lounge (on Main Street) to get your day started.
Back on the road, just a hop over the hill on Highway 101, you will find the Lost Coast Brewery Tour and new tasting room (Eureka). Come see and learn how the brewers concoct this world renowned treat made locally. ?
Check into your hotel or B&B of choice and then it?s time to check out Eureka. ?From cultural art and displays to logging, conservation, architecture and the Humboldt Bay, there is plenty to observe in Eureka. ?Be sure to swing by the Sequoia Park & Zoo, the oldest zoo in California and one of the smallest accredited zoos in the country.?Situated next to the magnificent old-growth redwoods of Sequoia Park, the zoo is truly a jewel. ?
Getting the most out of your vacation is our goal, so tonight browse through the many options for dinner and late night activities. ?You?ll find more tasting opportunities in the restaurants, bars and lounges in Old Town Eureka which serve local beer and kombucha on tap. ?You?ll also find a nice variety of California wines available. Be sure to wear your dancing shoes, as these places will also have live band or dj?s playing, a fun and intimate way to experience the North Coast. ?
Wake up early or sleep in late, either way you?re getting picked up by Pacific Outfitters, a local tour guide, for your personal Humboldt Beer Tour. ?You will choose 4-6 breweries to visit. Your tour guide will be your driver, allowing everyone to join in the fun. This pre-arranged tour can be customized to include more activities if you?re interested in sight seeing also. ?Simply ask, and they can help organize your best North Coast beer-cation.
Eel River Brewery
eelriverbrewing.com
1777 Alamar Way
Fortuna CA 95540
(707) 725-2739
Lost Coast Brewery
lostcoast.com
617 4th St.
Eureka CA 95501
(707) 445-4480
Redwood Curtain Brewery
redwood-curtain-brewing-co.myshopify.com
550 S. G St.
Arcata CA 95521
(707) 826-7222
Six Rivers Brewery
sixriversbrewery.com
1300 Central Ave.
McKinkleyville, CA 95519
(707) 839-7580
Humboldt Regeneration
humboldtregeneration.com
2320 Central Ave. F
McKinleyville, CA 95519
(707) 738-8225
Mad River Brewing
madriverbrewing.com
101 Taylor Way
Blue Lake CA 95525
(707) 668-4151
Now comes choices. You can continue north on highway 101 to the delightful town of Crescent City, with its working harbor, beaches and of course, more redwoods. This can also be called the lighthouse tour, as the lighthouse in the charming town of Trinidad is the ultimate photo op. But the most unique lighthouse is Battery Point in Crescent City. At low tide, you can actually walk to the island containing the lighthouse. ?Crescent City has two micro-breweries worth a visit. Port O?Pints Brewing Co., and Sea Quake Brewing. Both are in downtown Crescent City. In case you missed some of the opportunities to see spectacular redwoods, you can have one more chance at the famous Jedidiah Smith Redwoods State Park.
Port O?Pints Brewing ??
portopints.com
1215 Northcrest Dr.
Crescent City CA 95531
707-460-1154
SeaQuake Brewing ?
seaquakebrewing.com
400 Front St.
Crescent City CA 95531
707-465-4444
If you choose the above option, in order to get to the next group of breweries located in Redding, California, you will backtrack to Highway 299 in Eureka or take Highway 199 into Oregon and I-5 south to Redding. If you are short on time and decide to travel east on Highway 299 from Eureka to Redding rather than going north to Crescent City, you will be in the heart of the Shasta Cascade, Redding is the largest city north of Sacramento.
Explore Redding?s Sacramento River by stopping at Turtle Bay Exploration Park www.turtlebay.org for a peek at local wildlife and local Native American History. ?While there, marvel at the beauty of Redding?s Sundial Bridge, the only pedestrian bridge that is also a working sundial, and take a relaxing stroll down the famous Sacramento River National Recreation Trail, a 226-mile network of pedestrian and cycling trails. Redding is a great hub from which you can visit McArthur Burney Falls State Park, Lassen Volcanic National Park, Lake Shasta and Whiskeytown Lake. ?With so much to do, let?s not forget the local breweries.
Redding is fast becoming a beer mecca with four excellent choices. ?Wildcard Brewing Co. with names like ?Double Down, Imperial Red Ale?, ?Liar?s Dice, Indian Pale Ale?, ?Shot in the Dark, Oatmeal Porter? and ?Suicide Jack, California Cream Ale?, these beers will peak anyone?s curiosity. There are two tasting rooms to choose from ? the one onsite at the brewery, and a downtown tap house ? with all these choices as well as some seasonal favorites.
Wildcard Brewing Co.
wildcardbrewing.com
1321 Butte St. #140
Redding CA 96001
530-255-8582
If you need another refresher, Redding is also home to one of Fall River Brewing Company?s tap houses, as well as the locally brewed goodness of Final Draft Brewing Co., and Woody?s Brewpub and California Brewing Company. Hobby brewers will enjoy a visit to NorCal Brewing Solutions, where equipment and advice are always available.
Fall River Brewing Co.
fallriverbrewing.com ?
1030 E. Cypress Ave. D
Redding CA 96002
530-605-0230
Final Draft Brewing Co.
finaldraftbrewing.com
1600 California St.
Redding CA 96001
530-338-1198
Woody?s Brewing Co.
woodysbrewing.com
1257 Oregon St.
Redding CA 96001 ????????
530-768-1034
Overnight in Redding and the next morning take Interstate 5 South to Hwy 99 South. Head for the Sierra Nevada Brewery in Chico. The Sierra Nevada Brewing company is the second bestselling craft brewing company in the U.S. An in-depth, hour-and-a-half tour of Sierra Nevada give you an inside look at the brew house, grounds, sustainability practices, and packaging facilities. You will also learn the history of the brewery and Sierra Nevada?s role as a pioneer of the craft brewing movement. Visitors over 21 years of age can enjoy a guided beer tasting of new and limited release beers at the end of each tour.
Sierra Nevada Brewing
sierranevada.com/beer
1975 E. 20th St.
Chico CA 95928
530-893-3520
From Chico, take the 3-hour drive back to San Francisco.
Spend your final two days in the City by the Bay. Drop your car back at a downtown depot, as you won?t need it once back in town. Explore all the diverse areas of San Francisco from Chinatown to North Beach, from the Mission District to Fisherman's Wharf. While exploring, stop in at the oldest craft brewery in the U.S. Anchor Brewing Company opened in 1896 with roots dating back to the California gold rush. ?Their beers are handmade from an all-malt mash in the traditional copper brew house. The process combines brewing with carefully applied, state-of-the-art modern methods. The available tour will give you a brief history of the brewery and walk you through three floors of the building. A tasting session follows the walking tour.
On your final day in the city head over to the San Francisco Ferry Building Marketplace, a people's plaza serving residents and travelers alike. Located within the historic Ferry Building at the foot of Market Street, shops large and small celebrate food in all its forms, offering everything from artisan cheeses to the freshest of local fish. Restaurants and caf?s serve cuisine representing the quality and cultural diversity of San Francisco?s best chefs.
This ends our Beer-cation suggestions for now. This itinerary is not intended to be inclusive. Take some time to explore and you will find more hidden and innovative brew masters, creating state of the art brews in the region. ?Below is an overview of the Heart of Northern California showing sightseeing options for you to explore along the way.